Long Beach Island, NJ History
Long Beach Island has been continuously settled since 1690, initially being a destination for hunters. Barnegat Inlet, to the north of the island, was an important path for freight shipments and whaling from the 17th century through the 20th century. Due to the inlet's importance and its turbulent waters, a lighthouse tower was constructed in 1835 to guide shippers through the area. Erosion problems destroyed the tower in 1857, two years before the current Barnegat Lighthouse was completed in 1859.
Barnegat Lighthouse was constructed by the United States Army Corps of Engineers under the supervision of George Gordon Meade, famous for leading the Union forces to victory four years later during the Civil War at the Battle Of Gettysburg. The United States Life-Saving Service built Station #17 in Barnegat Light (then known as Brownsville) around 1872, which continues today as a United States Coast Guard station.
A developing tourism sector prompted a railroad connection between the mainland and Long Beach Island, which was completed to Barnegat Light in 1886. The Jersey Shore shark attacks of 1916 included a fatal attack in Beach Haven, killing University of Pennsylvania student Charles Vansant in July 1916, which partly inspired the book Jaws. A severe winter storm in 1920 destroyed most of the beaches along the island as well as several hotels.
A storm in 1923 further diminished the tourism sector, resulting in the discontinuation of train service to Barnegat Light between 1923 and 1926. In 1935, the railroad bridge to the mainland washed out, leaving the entire island without rail service. Several storms throughout the island's history have resulted in the island being split in two, with the division occurring at the island's narrowest point in Harvey Cedars.
Most famous of such storms, however, was the Ash Wednesday Storm of 1962, which split Long Beach Island into numerous pieces and nearly destroyed the island in its entirety. The storm caused the destroyer USS Monssen to run aground in Beach Haven Inlet, Long Beach Township. The existing Route 72 Causeway was erected in the late 1950s which replaced a low-level two-lane automobile bridge which in itself had replaced the previously destroyed railroad bridge.
The Above LBI History Courtesy of  ASK.com..
Museums & Historical Societies On & Near LBI, NJ
There are 12 Museums & Historical Societies on Long Beach Island, NJ (LBI) and the nearby mainland:
1) LBI Historical Association on LBI, NJ
2) Maritime Museum on LBI, NJ
3) Barnegat Light Historical Society & Museum on LBI, NJ
4) The Edith Duff Gwinn Gardens on LBI, NJ
5) LBI Foundation Of Arts & Sciences on LBI, NJ
6) Tuckerton Historical Society on the nearby mainland
7) Berkeley Twp. Historical Museum in Bayville, NJ
8) Ocean County Historical Society in Toms River, NJ
9) Toms River Seaport Society & Maritime Museum in Toms River, NJ
10) Colonel Charles Waterhouse Museum in Toms River, NJ
11) The Noyes Museum Of Art in Oceanville, NJ
12) Atlantic City Art Center & Museum
LBI Historical Society
Engleside and Beach Avenues
Beach Haven, NJ 08008
609-442-2483
www.LBImuseum.org
The Long Beach Island Historical Association's museum building was originally an episcopal Church built in 1882. It was purchased in 1976 by the LBI Historical Association. The Association incorporated in the State of New Jersey as a non-profit organization, maintains the building and grounds and oversees all activities.
Exhibits include artifacts of early life on Long Beach Island, a Victorian parlour, a kitchen with its many utensils, decoys by a local woodcarver, a bridal gown collection, and scale models of some of our historic buildings. There is also a children's area plus a large collection of scrapbooks containing pictures of local events on the island.
The Long Beach Island Historical Association produces many events, including walking tours through the historical area, historic trolley tours, craft shows, concerts and a victorian Tea to name a few. They also host free weekly programs throughout the summer on historical topics of interests from historic preservation, shipwrecks, the Pinelands, the Civil War, lighthouses, etc. Visit the website for the schedule of events.
Maritime Museum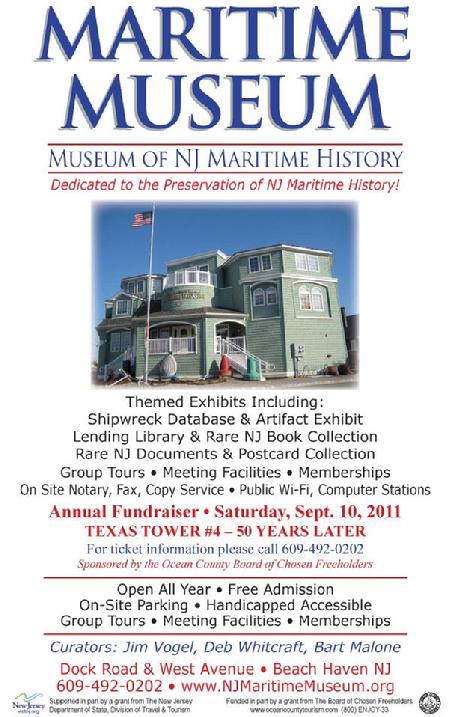 Museum Of NJ Maritime History, Inc.
Dock Road And West Avenue
P.O. Box 1250
Beach Haven, NJ 08008
(609) 492-0202
www.MuseumOfNJMH.com
New Jersey's Premier Maritime Museum
* Free Admission
* Free Wireless Internet Access
* Largest Collection Of NJ Maritime Artifacts
* Public Lending Library
 Barnegat Light Historical Society & Museum
West 5th Street & Central Avenue
Barnegat Light, NJ 08006
609-494-8578
The Barnegat Light Historical Society Museum proudly displays the original Fresnal lens that once graced the top of the LBI Barnegat Lighthouse. It also has many photographs of Barnegat City (Barnegat Light) during the first half of the twentieth century.
The Museum building was originally the schoolhouse in which early town children received their elementary education from its construction in 1903 through the last class on June 15, 1951.
The building was opened as a museum for the town of Barnegat Light in 1954.
Members of the Barnegat Light Historical Society maintain the exhibits and staff the museum, while the Garden Club of Long Beach Island lovingly cares for the Edith Duff Gwinn Garden.
The Edith Duff Gwinn Gardens
Surrounding the Barnegat Light Museum is one of the most delightful gardens on Long Beach Island. Several years ago, Edith Duff Gwinn and Frances Selover joined forces to beautify this corner of Barnegat Light with a unique and beautiful LBI garden. While both women passed away a few years ago, their successors, members of the Long Beach Garden Club, continue their work today. Here are lovely flowers bathed by the sun and shaded nooks just right for curling up with a book on a warm LBI summer day.
The Edith Duff Gwinn Gardens are a special LBI treat, tucked away in this seaside resort town.
LBI Foundation Of Arts & Sciences (LBIF)
120 Long Beach Boulevard
Loveladies, NJ 08008
609-494-1241
The Long Beach Island Foundation of the Arts and Sciences (LBIF) was established in 1948, as a non-profit institution by artist Boris Blai. It provided arts and educational opportunities for the quiet island community. He felt that through exceptional art classes, exhibits and other activities the LBIF could engage summer visitors and residents.
Over the years, the organization has developed through the generous support of its memberships which includes 600 families from the MidAtlantic states.
The organization is a vibrant community resource dedicated to providing arts, science and recreation programs to the members, residents and visitors to the area. Including After School Arts Education Program for 9 area schools, an Artists Residency and Retreat Program for NJ Artists, Visiting Artists in Ceramics during the summer season, and special ceramics scholarships and residency opportunities.
Tuckerton Historical Society
35 Leitz Blvd.
Tuckerton, NJ 08087

609-294-1547
Since 1982, the Tuckerton Historical Society has been located in the Giffordtown Schoolhouse, an 1884 schoolhouse with a stove, model of the Tuckerton Wireless (1912-1955), antique tools and many other artifacts that pertain to the school.
The museum showcases many artifacts from the early Quakers, Tuckerton, Little Egg Harbor areas, Tuckerton Railroad and Tucker's Island. In September 2002, the museum received a donation of the "Osborn Papers" from William Birdsall, a descendant of Richard Osborn, a collection of interesting historical documents. The Tuckerton Historical Society produces many events, including Rocking Chair gatherings, historic craft demonstrations, antique flea markets and picnics to name a few. They also host programs throughout the spring through fall on historical topics of interests from local Native American culture, environmental history, Christmas exhibits, etc. Call the Society for the schedule of events.
Berkeley Township Historical Museum
630 Route 9
Bayville, NJ 08721
732-269-0643
The Berkeley Township Historical Museum is located in the 1890 original Township Hall, and features the private collections of area families and a circa 1900 kitchen. The museum offers guided tours and permanent exhibits. In addition, the museum will be featuring the Al Leitter baseball memorabilia collection.
Ocean County Historical Society


26 Hadley Avenue
Toms River, NJ 08753
732-341-1880
The Ocean County Museum is located in the historic Victorian period Pierson Sculthorpe House, built in stages bedtween 1820 and 1866. Their permanent collections depict the life-styles and occupations of early Ocean County families, while changing exhibits help bring to life the many stories of Ocean County.
Exhibits include well-appointed Victorian period rooms, including a kitchen, dining room, music room, kitchen, parlor, bedroom and schoolhouse. The Museum also showcases the history of Lighter-Than-Air aviation at Lakehurst Naval Air Station, local Revolutionary War and Civil War memorabilia, fossils and Native American artifacts, and Barnegat Bay duck decoys.
In addition to books, the library and archives hold a large collection of historic documents, maps, newspapers, cemetery & census records, family artifacts, vital statistics and much more! The Museum also has files on over 500 Ocean County families that are available for genealogical research.
The Ocean County Historical Society produces many programs and events, including bus tours to many historical sites in New Jersey, an Annual Victorian May Fair, Civil War Living History Day, Model Train Display, Antiques and Collectibles Faire to name a few.
Programs such as Founding Fathers Chat and The Thomas W. Middleton Civil War roundtable meet monthly at the Museum to present historical programs.
Visit the website for the schedulr of events: www.oceancountyhistory.org
Toms River Seaport Society & Maritime Museum
78 East Water Street
Toms River, NJ 08754
732-349-9209
The Toms River Seaport Society is a non-profit organization dedicated to the preservation of the rich maritime heritage of the Barnegat Bay in New Jersey. Founded in 1976 to preserve where possible and recreate when necessary, the unique history of those bygone days when schooners, catboats and special purpose small craft sailed New Jersey's coastal waters.
The Barnegat Bay area and the intracoastal waters of New Jersey have produced a number of significant boat types indigenous to the shallow estuaries and bays that provide haven for the feisty blue crab, the flat faces flounder, the elusive bay scallop, and the sweet cherrystone clam.
New Jersey craft such as the Class "A" catboat, Barnegat Bay sneakbox, gunning skiff, and the Egg Harbor Melon Seed are part of the evolution of watercraft which include the Jersey sea skiff, numerous garveys, hay scows, and Sneakboxes that are such an important part of this area's history.
The Seaport Society sponsors an Annual Wooden Boat Festival in July. This 24 – year old event is one of the largest events of its type on the East Coast and draws over 8,000 visitors. The Society provides off-site presentations on the museum and maritime history throughout the area. They have active educational programs, including special programs for scouting groups, special education students and internships. Hands-on restoration of watercraft is also featured. Their website is: www.tomsriverseaport.com
Colonel Charles Waterhouse Museum
17 Washington Street, 2nd Floor
Toms River, NJ 08753
732-818-9040
The Colonel Charles Waterhouse Museum is a non-profit, charitable 501(c)3 organization created to preserve, perpetuate and display artist Colonel Charles Waterhouse's lifetime body of historical artwork on a visual and experiential endowment to the American public.
Their beautiful 3,000 square foot facility houses a collection of over 300 original paintings, pen and ink illustrations and sculptures, which span our history from Revolutionary times to the present. The museum offers guided tours, a museum store and outreaches to schools and the community.
The Noyes Museum Of Art
733 Lily Lake Road
Oceanville, NJ 08231
Directions: Garden State Parkway South Exit 48 to Route 9 south. Continue south on Route 9 for approximately 6 miles, passing Smithville. After the Great Creek Road intersection, turn left onto Lily Lake Road.
The Noyes Museum of Art (NMA), the only fine arts museum in southern New Jersey, is filled with treasures of American art, especially folk art and crafts. Located just fifteen minutes from Atlantic City and adjacent to the Edwin B. Forsythe National Wildlife Refuge, The Noyes Museum makes the perfect stop for out-of-state visitors or New Jersey residents who are inspired by art and culture and appreciate its beautiful natural setting.
The Museum's permanent collections, educational programs, and changing exhibitions serve as a local and national resource for schools, colleges, social and civic organizations and for individuals who are interested in expanding their understanding, appreciation, and knowledge of American culture through its fine and folk arts and crafts.
Each year, the Museum hosts an eclectic lineup of exhibitions, public programs and gallery lectures designed to appeal to a wide audience. The NMA's children's programming ranges from hands-on creative art classes and special appearances by children's book authors and illustrators to concerts and seasonal festivals. Established in 1983 by entrepreneurs Fred and Ethel Noyes, the founders of The Towne of Historic Smithville, a once dilapidated 1787 stagecoach stop transformed into a Williamsburg-style tourist attraction—The Noyes Museum today houses a portion of the Noyes' massive collection of working decoys (originally over 3,500) and examples of fine art. In addition, it showcases contemporary and traditional folk art forms, including works by artists Daniel Garber, Dale Chihuly, Marcia Wilson, Malcha Zeldis, Minnie Evans, Albert Hoffman and Victor Joseph Gatto.
In envisioning their museum, the Noyeses hoped to foster greater public awareness and appreciation of the American arts and crafts movement and to emphasize works created by New Jersey artists, past and present. They saw the tradition of American decoy carving as a natural part of this artistic heritage. This vision largely originated from Fred Noyes' interests which centered around his personal training as an artist at the Pennsylvania Academy of Fine Arts and the famed Barnes Foundation, and predilection for duck decoys, which he had begun collecting at an early age.
Atlantic City Art Center & Museum

NJ Avenue & The Boardwalk, Atlantic City, NJ 08401
Ph: 609-347-5837
Located on Garden Pier overlooking the famous Atlantic City Boardwalk. Free Admission and Parking
Open 10am – 4pm, 7 Days a Week,
Closed on National Holidays
Additional Important Information about Long Beach Island – Welcome To Long Beach Island Journal