LBI Rentals – 4 BR + 2 BA House Across From Lorry's Motel
Call Owner's Cell 609-492-6363 For Immediate Answer Rates & Availability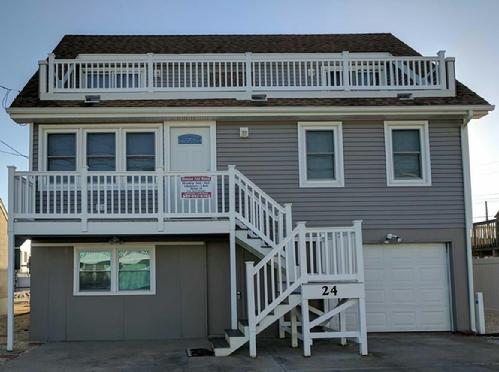 Thank You To ALL Of Our Previous LBI Rental House Guests Vacationing On Long Beach Island, NJ.  Please Call Us For Your 2020 Reservations While They Are Still Available!
4 BR 2 BA "Million Dollar" Rental House – 2 Decks with Bay Views – Best Value Rental House On Long Beach Island Has Almost Everything – from ONLY $699/week in early May to ONLY $2,999/week In Peak LBI Rental Season – – Then Back Down to $699 in November Off Season 
Affordable Relaxing Rentals For Family Vacations, Reunions, Retreats
2020 LBI Rental House Vacation Availability – Please Call Bill 609-492-6363 To Check Latest Openings
Great Value For An Affordable Long Beach Island Vacation
You Bring Almost Nothing – Includes All Bedding & Beach Stuff
This Vacation House Is Very Affordable With ALL The Free Amenities

4 BR 2 BA House Guest Comment "This House Has Everything" ALL Sheets, Pillows, Pillow Cases, Bedding, Bath Towels, A/C, Heat, 5 TV's, Wi-Fi, 2 Full Refrigerators, Eat In Kitchen Seats 6, Gas Stove w/4 Burners & Double Oven, Gas Grill, Washer/Dryer, 8 Beach Badges, 10 Beach Towels, Beach Cooler On Wheels, Etc.
Property Details – 24 W. Washington Ave. in Beautiful Beach Haven Inlet
This house is on 8 ft high pilings and Thank God received little to no damage from Super Storm Sandy. The ground level basement was completely redone after the storm and is used for Lorry's Motel & This House's Maintenance and Storage, etc. The LBI Rental House two upper floors received No Damage, Thank God.
The 4 BR House is located in the Peaceful and Quiet Laid Back Beautiful Southern End Of Beach Haven Inlet about 200 yards from the beach and close walking distance to water on 3 sides. It is located across the street from Lorry's Island End Motel (an added advantage to your extra relatives and friends to visit you).
The house is a very well kept property that has been used primarily by the family that owned it before Bill Hutson (Lorry's Owner) bought it on Dec. 15, 2014. There is a fiberglass deck across the front of the house off of the two large second-floor bedrooms With Beautiful Bay Views, Beautiful Sunsets & Cool Breezes. Also, this deck is used for sunning or simply relaxing during the day or in the evening with your friends/relatives and your favorite libation! From the outside of this house, one could easily be deceived as to the roominess of the inside – so it is a must-see in order to see the size to be appreciated as It Is A Great LBI Vacation Rental House.
EXACT Mailing Address To Mail Payments (Zip + 4) Concerning Your Long Beach Island Vacation:
Bill Hutson
23 W. Washington Ave.
Long Beach Township, NJ 08008-1046
Property Description & Information
Tremendous Location – Only 200 Yards To The Beach & 200 Yards To Bay
Close Walking Distance To Water On 3 Sides And Only 1 Street From The Beautiful Wildlife Preserve Parking Lot With Inside Bathrooms & Showers.
Type Of House – Single Family House (In Very Good Condition)
Bedrooms – 4:
BR # 1 with 1 Queen Bed & 2 Bunk Beds
BR # 2 with 1 Queen Bed
BR # 3 Left Side 3rd Floor Master BR Has 1 King Bed (Outside Deck Access)
BR # 4 Right Side 3rd Floor Master BR Has 1 King Bed (Outside Deck Access)
Sleeps – 10 with 2 King Beds, 2 Queen Beds (Incl. 1 Bunk Bed with 2 Bunks)
Full Bathrooms – 2:  One on each floor with Sink, Toilet & Shower
(Very Important- Includes Toilet Tissue & Cleaning Supplies)
TV's – 5: One 55″ Flat Screen TV in Living Room & One TV in each BR
(50″ Flat Screen TV in Left Hand Side Master Bedroom on 3rd floor)
(50″ Flat Screen TV in Right Hand Side Master Bedroom on 3rd floor)
Full Size Refrigerator -YES:  Two (2) Full Size Refrigerators w/Top Freezers
Wi-Fi – YES:  Wi-Fi Is Provided By Comcast Cable
Air Conditioning – YES:  5 Room A/C's
Heat – YES:  Baseboard Heat
Washer & Dryer – YES:  In Laundry Room Off Kitchen
Back-Up Washer & Dryer – YES
(In Basement – Used Only If House Washer & Dryer Are Broken)
Vacuum Cleaners – YES:  3 Vacuums (Kept In Closets)
Floors – 3:
1) Separate 1st Floor Garage has storage + supplies for this LBI Rental House & Lorry's Motel
2) 2nd Floor: Living Room, Kitchen, 2 Bedrooms – 1 Bedroom with 1 Queen Bed and 1 Bedroom with 1 Queen Bed & 1 Bunk Bed with 2 Bunks
3) 3rd Floor: 2 Master Bedrooms Each with 1 King Bed And Gorgeous Bay Views From The Large Fiberglass Deck
Off Street Parking – YES: Driveway Parking For 4 Cars (Some street parking available)
NO PETS: Sorry No Pets In The House Or On The Property At Any Time
No Smoking Inside Please: Smoking is allowed outside the house on the decks and on the grounds of the property and in the courtyard. Please don't take the ash trays inside the house. Thanks!
Sorry smoking is Not Permitted inside this Rental House. Also please NO candles, incense, or any lit objects are allowed inside the Rental House or on the outside decks. However, YES smoking is allowed outside the house on the decks and on the grounds of the property and in the courtyard.
Total Rooms – 8: On 2nd and 3rd Floors
Added Advantage: Our LBI Rental House Is Across The Street From Lorry's
Island End Motel – Additional Family & Friends can stay across the street at
Lorry's and be close to you, plus this LBI Vacation Rental House includes
8 FREE BEACH BADGES AND ALL LINENS INCLUDED.
Check-In: 2 PM – – Sorry – Early Check-Ins ARE NOT AVAILABLE !
Please don't arrive at the Rental House or Lorry's Motel before 2 pm. We give out Free Beach Badges at 2 PM (Sorry Not Before 2 PM – For The Rental House)
We do realize you want to start your vacation early, But We Need Until 2 PM Without Any Interruptions To Get The House Ready For Your Vacation! Thank You For Your Expected Cooperation !
Check-Out: No Later Than 10 AM – Lorry's Motel Office Across The Street
(Lorry's Office Opens At 8:30 AM – Check-Out Is Between 8:30 AM – 10 AM)
* Eat-In Kitchen – Fully Equipped
* Very Important – Dishwashing Liquid & Dish Towels Included
* Kitchen Table Seats 6
* Two (2) Full Size Refrigerators w/Top Freezer – Incl. 2 Ice Cube Trays – – 2 Refrigerators So If One Refrigerator Stops Working – The Other Works God Willing
* Gas Stove With 4 Burners
* Double Oven (2 Ovens – Top & Bottom)
* 2 Pot Holders For Hot Items
* Built In Microwave
* Dishwasher With Dishwasher Detergent
* 12 Cup Coffee Maker – Includes Coffee & Filters
* 4 Slice Toaster Oven
* Large Blender
* Pots, Pans, Dishes and Silverware
* Dish Towels
* Other Very Helpful Amenities
* Very Important – Incl. ALL Linens (Sheets, Pillows, Bath & Beach Towels)
*  FREE Beach Badges (Up To 8 Badges) @ 2 PM with $100 Refundable Deposit
* Please Don't Arrive At The Rental House Or Lorry's Motel Before 2 PM
* Maintenance Is Available – Call The Owner 609-492-6363
* ALL Cleaning Supplies
* Outdoor BBQ Grill & Grill Lighter
* 4 Clothes Hampers – One in each Bedroom (4 BR)
* 2 Electric Alarm Clocks – One in each King Bedroom
* 2 Boogie Boards
* 2 Beach Chairs
* 4 Beach Towels
* 1 Beach Umbrella
* 1 Portable Beach Cooler (With Wheels) For Drinks, Etc. At The Beach
* 2 Outside Showers with Enclosed Shower Stalls
* 1 Foot Washing Bucket To Wash Sand Off Feet Near The Front Entrance.
* Outside Clothes Line & Clothes Pins (For Wet Beach Items, Etc.)
* 1 Bicycle Rack For 8 Rental Bicycles Or Your Own Bicycles – People On
* Vacation For A Week Generally Prefer To Have Their Own Bicycles Or To
* Rent Bicycles For A Week. Please Bring Your Own Bicycles Or You Can Rent
* Bicycles At The Beach Right Up The Street At Bowker's South Beach Grill & Deli – – Hourly, Daily, or Weekly Bike Rental.
(Sorry – Free Bicycles Are NOT Provided – But Free Bedding And Almost Everything Else Necessary Is Provided Including Maintenance Available)
Saturday-Saturday Weekly 4 BR 2 BA LBI Rental House – In Season (Off Season Daily & Weekend Rentals Available – Call 609-492-6363)
Call For 2020 Reservations – Best Value LBI Rental House – – Saturday Check-In Is 2 PM – Please Don't Come To The Property Before 2 PM
*Ask Questions Or Make A Reservation- Call Bill (Lorry's Owner 609-492-6363)
Please Note: All Potential Guests Please Confirm Your Vacation Dates With Your Employers, Family, And Persons Involved In Your Vacation Plans Before You Make Your Reservation, To Make Sure That Your Vacation Dates Are The Vacation Dates That You Want In This Rental House. All Reservations, Deposits And Rental Payments Are Non-Refundable, Non-Cancelable And Non-Changeable.
* Chowderfest Week (Oct. 3 – 8) Is Discounted – Availability Is 5 Nights (Not 7 Nights) From Oct. 3 – 8 With Check-Out By 10 AM On Thur. October 8 by 10am. Our LBI Rental House Is Reserved Every Year For The Kiters In The KiteFest Who Stay From Thurs. Oct. 8 – Oct. 13.
** October 13 – 17 Also Discounted Because Availability Is 4 Nights (Not 7 Nights). These Dates Are After KiteFest.
Walmart MoneyGram (Walmart To Walmart Wire Transfer) – Is The Fastest Way To Pay And Guarantee Your LBI Rental House Reservation. The Owner, Bill Hutson, Will Give You Easy Instructions.